As a small business owner, you are likely to be an expert in your field, whether that's in construction, a legal or accounting practice, or in the hospitality industry.
But, chances are, you didn't study marketing, finance,  sales, or growth strategies that could take your business to the next level.  ActionCOACH Horsham provides you with a trusted guide to help you draw up and implement a blue print for future success.
Our system has been refined over more than two decades, working with many thousands of small business owners in over 70 countries, providing real results for real people.  We are so confident we will get results for you too that we are prepared to guarantee it!
Need a Business Health Check?
Has Covid-19 turned your small business upside down?
Our business coaching programmes, backed by 25 years of international best-practice, are guaranteed to help you achieve your goals - whether that is increased profits, a bigger team or a better work/life balance. Are you ready to get back on your feet and get your business thriving again? Contact Daniel today for your free Business Health Check.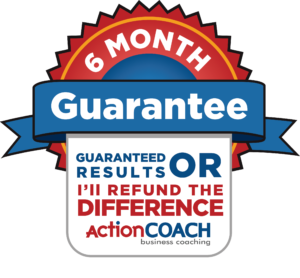 The ActionCOACH Guarantee
We are so confident that our programmes will increase profits  for your business within 6 months  that we are prepared to guarantee it!   Chat to Daniel today to find out how ActionCOACH Horsham can help your business thrive –  danielryan@actioncoach.co.uk
Your Free Covid-19 "Business Survival Training" video series
When the devastating effects of Covid-19 on the economy became clear - particularly for small businesses - ActionCOACH founder Brad Sugars put together a 10 part video series aimed at helping business owners not just survive this crisis, but come out the other side thriving.
Brad has helped many thousands of business owners around the globe achieve their goals, and has grown ActionCOACH into the world's largest business coaching company - don't miss this opportunity to learn from the industry's best!
What do ActionCOACH clients say?
I feel I am more in control of my time, I run the business and not the other way around (ie the business runs me). I am more mindful when it comes to spending time with family and pursuing life goals. Jamie Abdilla (Duck Mechanical and Electrical)
REAL PEOPLE. REAL RESULTS
My Business has grown over 300% since we started working with ActionCOACH. I am able to spend 40% less time working on my business, which has lowered my levels of stress and improved my overall health. Terry Inglefield (STK Fire and Risk Management)
What do ActionCOACH clients say?
I work a 3.5 day week now, so work:life balance is much better. More time available for family and outside interests. My life is significantly different to how it was pre-ActionCOACH, I could literally never imagine going back to those days. Fern Fellowes-Day (Focus Ecology)
REAL PEOPLE. REAL RESULTS
I am a better business owner and leader in my organisation and I have more systems running my business, generating more time and profit. Better at time management and able to structure the business so I can step back and have a family. Jasmine Lambert (Redwood Financial)
What do ActionCOACH clients say?
I like the fact that we have been provided with a lot of help to implement really positive business changes. We have experienced coaching from other companies in the past that were also strong with business strategy, but they struggled to help us overcome barriers to implement changes. Bruce Mitchell (IT Dev)
REAL PEOPLE. REAL RESULTS
I now can work on the business full time as the day to day runs without me, I can take time off on my schedule whenever I wish. I am very grateful to my Action Coach for enabling this transformation. Rob Morrow (We Do Group)
What do ActionCOACH clients say?
The turnover has increased. The business is better organised, with systems and processes in place for many activities. I delegate more and spend less time on activities that could be done by someone else. We don't hang on to elements of the business or products that are not profitable. I am working on my mindset, to move away from the 'scarcity' mindset to one of 'abundance'. Jo Lochhead (The Crafty Kit Company)
REAL PEOPLE. REAL RESULTS
A huge amount of experience and resources. I no longer need to take a laptop on holiday and I seldom check emails after 5:30 pm. Our debtor days have come down. Our margin went up. Our conversion rate went up. My blood pressure came down. Nathan Wheeler (LSR Services)